Balloon Decorating – A Brazilian Specialty
There are some things that Brazilians just do better than other people, cleaning, for example. And soccer. And now this.
Brazilians have some serious balloon decorating skills. In fact, I can't think of a culture that makes more use of balloons as a party decoration. The use of balloons in party decoration (especially at children's parties) definitely does add a special happy feel to the environment. In Brazil, professional party planners are extremely creative and find ways to make versatile use out of balloons (called balões in Portuguese). They come up with things that you never would have dreamed of, like balloon forests for example.
In Brazil, some decorators make quite a good living by being talented at working with balloons. This is considered an art in Brazil, and is referred to as "balloon sculpture" (escultura de balão). If you have patience and ample creativity (se você tiver paciência e muita criatividade), this could be the career for you!
Here are some examples of common ways that Brazilians arrange balloons for parties:
Arco de Balões
A balloon arc, great for entrances or exits.
Striped balloon arcs like the one in this last picture are surprisingly easy to make, I've done it a few times. There's a video below that explains the process.
Coluna de Balões
A balloon column. They can also be free-standing,in which case you would make the balloon column the same way you'd make an arc, just stop tying (amarrar) them together when it reaches the hight you want.
Uma Parede de Balões
A balloon wall. This project requires thousands and thousands of balloons to make – imagine how long that would take! This is where party decorators make their money – just the cost of balloons alone is substantial. Also, the quality of Balloons that you can get in Brazil is not that great. First of all they are covered in that white powder, talco in Portuguese, and after hours of working with balloons you inhale enough of it to make you feel sick. Also I think that the Balloons they sell in Brazil explode (estourar) more often.
How to Decorate with Balloons
So how do you do all of this? It's actually not hard, it's just time-staking and boring. If you are attempting balloon decoration for the first time, expect it to take hours to make a sculpture that would take a professional way less time to do. If you watch someone who has a lot of experience in balloon decoration do this (montar - to put [something] together), you will be amazed at how fast one can be at filling and tying (enchendo e amarrando) balloons. It takes practice to be fast at this.
The balloon decorating industry in Brazil is so popular, that people have actually begun inventing ways to make the process of montando go faster. For example some brilliant individual invented a box, called a caixa de medir balões (a box to measure balloons) which has different sized holes through which you are to insert the balões enchidos (air-filled balloons) that you are making to make sure that they all end up being a uniform size. The balloon box is such a simple invention, so obvious, and it's just made of paperboard (papelão), but they're charging a fortune for this thing in Brazil! I could be wrong, but I don't remember this box being around back in the day, so I'm fairly certain that the caixa de medir balões is a relatively new invention.
This might be evidence that the demand for balloon decorating right now is very high. Brazil's economy is improving…people are able to spend money to have more and more parties (and Brazilians love a party)…it's just a theory but it makes sense.
Arte com Balões – Balloon Art
Companies in Brazil that specialize in party decoration offer a variety of balloon options. You could pay a fortune to have them customize your entire themed party, with balloons everywhere. Or, If you're trying to save some money you could opt to purchase just one balloon sculpture such as an arc, which they usually deliver ready-made. This is such a huge industry in Brazil, that one can actually take classes cursos in balloon art (arte com balões), for those who are looking to start their own party decoration companies or simply improve their skill.
If you feel like attempting balloon art yourself, watch this video. It nicely clarifies the balloon making process: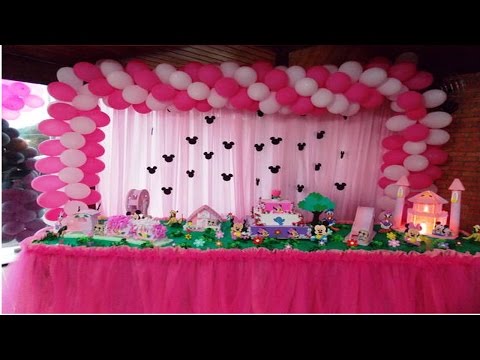 To inflate the balloons, you'll need a foot pedal controlled air inflator (inflador de balões).
Decoração com Balões
Here are some more random Brazilian balloon decorations for your viewing pleasure: