BRAZILIAN WOMEN LOVE ANKLE WEIGHTS
If you are a women going to the gym in Brazil, you might feel like you have been transported back to the '80s. First of all, women in Brazil still love to use ankle weights (called caneleiras). To get that famous Brazilian booty, it's all about weight training. That's right….prepare to see petite brazilian women doing lunges with 60 pound barbells on their shoulders. This is another popular one which targets that part on the upper back of your legs…
…and note that those brazilian girls are using massive ankle weights to achieve the results they want. In Brazil, unlike the US, women strive to have larger thighs and thicker legs. In the picture above, for example, these girls are trying to gain some mass (ficar encorpadas) in order to have strong legs, pernas, and bundas (or "bumbums") for Carnaval in Rio de Janeiro.
So girls, just for fun, and for some Portuguese vocab practice, here are some…
EXERCISES YOU CAN DO WITH ANKLE WEIGHTS
1. Back of The Legs (Parte de trás da coxa)
"Em quatro apoios (joelhos e cotovelos), coluna reta, abdômen contraído e caneleiras nos tornozelos. Estenda a perna direita e flexione voltando à posição inicial. Repita o movimento com a perna esquerda. Faça uma série de 20 repetições de cada lado."
- "On all fours (knees and elbows), straight spine, contracted abdomen and ankle weights on the ankles. Extend the right leg and flex, going back to the original position. Repeat the movement with the left leg. Do a set of 20 repetitions on each side."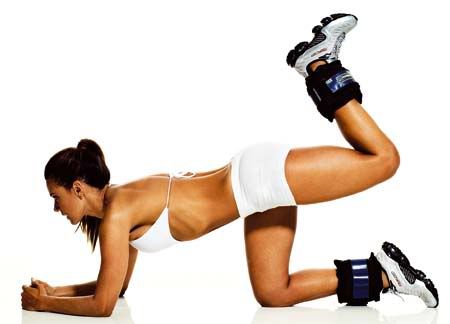 2. The Butt (Bumbum)
"Deitada de lado, mão direita apoiando a cabeça, braço esquerdo flexionado a frente do corpo, pernas levemente flexionadas. Eleve a perna de cima até ultrapassar a linha dos ombros, volte devagar com o pé flexionado e a ponta virada para baixo. Mude de lado e repita o processo com a outra perna. Faça uma série de 20 repetições de cada lado."
Lying on one side, the right hand supporting the head, left arm flexed in front of the body, legs lightly flexed. Lift the top leg until it passes the height of the shoulders, return slowly with the foot flexed and pointed downwards. Switch sides and repeate the process with the other leg. Do a set of 20 repetitions on each side.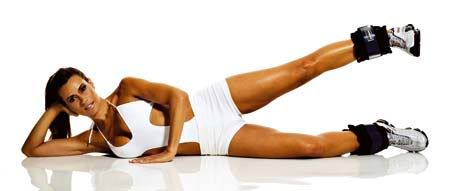 If you are interested in learning more Portuguese gym and work-out vocab, check out my list Here.